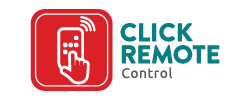 Click Remote l Click Applications
Use your smartphone or handheld device to manage content on your digital screens for an engaging interactive viewer experience that helps boost sales or drive presentations. The Click Remote Control App converts your smartphone or handheld device into an instrument that allows you to control and navigate the digital content on your non-touch screens, providing an interactive experience for user engagement without the need to invest in expensive touch screens.
Create your content
Create your content using Scala Designer or Content Manager and publish them to your Player, as per the usual procedure.
Install the application.
Install the Click Remote App on your smartphone or tablet and configure the buttons. Every button will trigger a specific playlist, slide or a group of slides to display.
Trigger your desired content.
Touch on any of the button to trigger your desired content for display on the screen, just like switching channels on a TV.
The content will be displayed.
The selected content will be displayed on your selected screen(s).
Easy to use.
Easily navigate between content and deliver your sales pitch or presentations
Customizable
Easily customized to fit varied content for your unique retail, corporate,
educational or visual communication objectives.
Convenient.
Control is right in the palm of your hands using your smartphone or handheld
devices from anywhere in the room via WIFI.
Cost saving.
Run interactive content without having to invest in expensive touch screens.
Watch Our Click Remote Demo
Edit Page